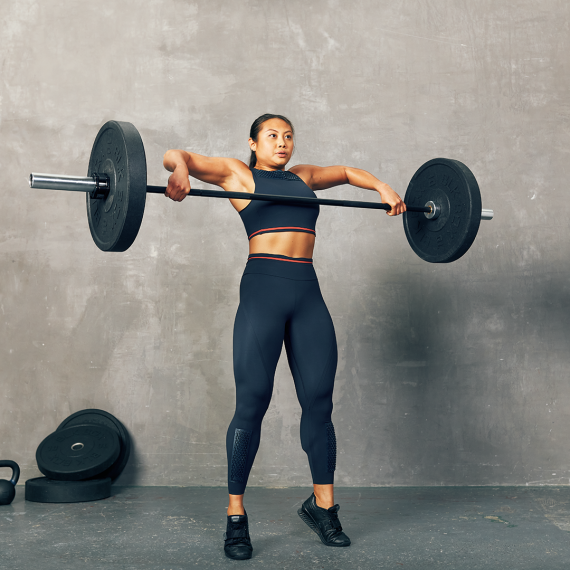 Blue Elvin
Set 1 was developed by Blue Elvin x RHEON to transform a woman's ability to train.
The limited set includes three products to protect women and empower performance during functional barbell training. The RHEON™ panels have been engineered to offer flexible protection & optimal coverage for women's collarbones and shins.
Flexible and lightweight, the RHEON™ panels give confidence to the athlete and enables seamless transitions between barbell training and conditioning.
Testing
Engineered for Women.
After two-years of research and development; pressure mapping, multiple prototypes and athlete testing, Set 1 was ready.
50 women. 200 hours of testing. 30 prototypes. 12 research calls. 5 surveys.
The entire product development was powered by female athletes. Pressure mapping and 3D scanning determined the areas of the female body most in need of protection during barbell training. Whilst multiple rounds of testing and continuous feedback helped to fine-tune the thickness and geometry of the RHEON™ panels in order to deliver confidence and performance to the athlete.
Blue Elvin x RHEON put female athlete data at the heart of the design & delivered a breakthrough solution in functional training. A set of products designed entirely by Women, for Women.
Set 1
Blue Elvin created three unique products in collaboration with RHEON LABS to empower women in their functional training. A longline sports bra (P1-001), leggings (P1-002) & shin sleeves (P1-003).
Products
P1-001
Longline sports bra.
Engineered with RHEON™ technology to empower performance & prevent bruising during barbell training. The break-through RHEON™ Impact Panel remains soft and flexible during everyday use but strengthens under barbell impact, enabling women to focus purely on their form without risk of injury or bruising. The garment features a subtle racer-back, low armholes, and a supportive underband for a truly premium finish.
Products
P1-002
Leggings.
Engineered with RHEON™ technology to allow for powerful lifting & to prevent discomfort during barbell training, the integrated impact panels reduce marks, scrapes, and bruises. The panels are designed with a sleek slope for a smooth barbell path enabling you to focus on form and performance, with seamless transitions between barbell training and conditioning.
Products
P1-003
Shin sleeves.
Worn on skin or over leggings, the shin sleeves have been designed to be versatile. Engineered with RHEON™ technology to prevent shin discomfort during barbell training, the shin sleeves offer the same high performance as the leggings but in a modular solution. A soft elasticated gripper keeps them firmly in place to keep you focused on performing at your best.