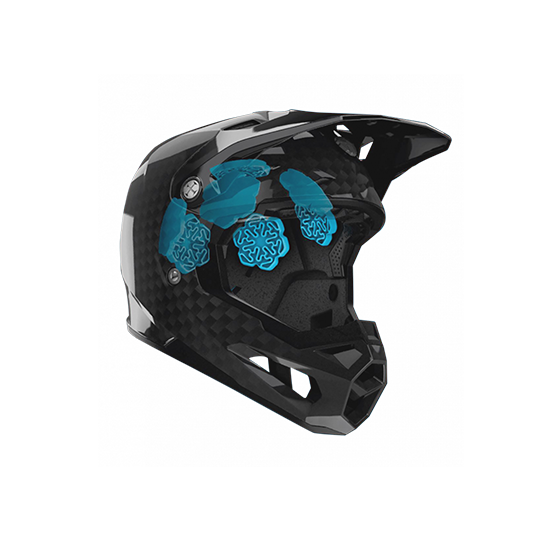 FLY Racing
The Formula was the result of 3 years of close collaboration between FLY Racing and RHEON LABS, involving integrated inside-out design processes, extensive development and rigorous testing.
The carefully developed geometry combines with the active polymer to control the energy transmitted through the helmet to reduce the forces transferred to the brain.
The unique anisotropic shape allows the cells to absorb energy differently in compression and shear. The adaptive chemistry of RHEON™ technology reacts instinctively to control energy and change its behaviour depending on the severity and direction of an impact, maximising absorption of low-speed linear and rotational impact energy.
Testing
Industry-first testing
In motocross, you never know how you're going to fall – in which direction you're going to hit your head and how hard or fast.
RHEON LABS and FLY Racing collaborated to produce unprecedented industry wide test data. The project saw the Formula and the 9 leading MX helmets tested independently and on RHEON's state-of-the-art helmet test rig, which simulates both linear and rotational violence from 'real-world' events. These tests consist of a slider with a 30-degree wedge impacting a highly-instrumented bio-fidelic head (Hybrid III), neck and representative body mass. The tunable drop rig mimics the inertia of the human body which allows accurate representation of a head impact to be replicated.
The Formula out ranked all helmets over a number of tests for both high velocity impact and low speed impact, and in rotational impact tests.
Testing
Resources
The Formula helmet has been tested on some of the most advanced equipment in the world. Performing best in class over both high velocity crashes as well as rotational and low speed impacts. Featuring RHEON™ technology, the helmet introduced a new approach to both protection and weight reduction. Weighing only 1290 grams, the Formula is the perfect combination of industry leading innovation and ultra-lightweight design. Backed by over 3 years of development by some of the world's leading helmet scientists.